Exon Domesday: Digital Methods in Codicology for the Study of an Anglo-Norman Manuscript
Exon Domesday : méthodes numériques appliquées à la codicologie pour l'étude d'un manuscrit anglo-normand
Exon Domesday: Metodi digitali per lo studio codicologico di un manoscritto anglo-normanno
In this article, we present a methodological discussion of a study of the Exon Domesday Book, Exeter, Cathedral Library, ms 3500. Exon Domesday contains records for the south-west of England which were compiled for the Domesday survey and then reworked into Great Domesday Book as we know it today. Exon Domesday therefore provides a unique view into the workings of the early Anglo-Normans, providing us with crucial evidence of what they did, how and probably also why. However, the manuscript is extremely complex, being the work of a team of scribes working together under significant pressures of time. It is very irregular in composition, with quires ranging from one bifolium or even a singleton to those of twenty leaves. In order to understand the manuscript and its production, we have developed digital tools and approaches to help visualise and analyse the structure. Although they are based firmly in the research questions of the project, they are also founded on principles of codicology that we believe are applicable much more widely than just this project.
Dans cet article, nous présentons une analyse méthodologique de l'étude de l'Exon Domesday Book, Exeter, Cathedral Library, ms 3500. L'Exon Domesday contient la documentation relative au sud-ouest de l'Angleterre, compilée au cours de l'enquête Domesday, puis retravaillée dans le Great Domesday Book, tel que nous le connaissons aujourd'hui. L'Exon Domesday offre donc un point de vue unique sur les méthodes de travail des premiers anglo-normands, nous fournissant des témoignages essentiels de ce qu'ils ont fait, comment ils l'ont fait, et probablement aussi pourquoi. Cependant, le manuscrit est extrêmement complexe, car il est le fruit du travail d'une équipe de scribes qui travaillent ensemble dans des délais très serrés. Sa structure est très irrégulière, étant formé de cahiers allant d'un bifeuillet, ou même d'un feuillet dépareillé, jusqu'à un cahier de vingt feuillets. Afin de comprendre le manuscrit et sa fabrication, nous avons donc développé des outils et des méthodes numériques et pour aider à visualiser et analyser sa structure. Bien qu'ils soient fermement ancrés dans les problématiques du projet, ces outils sont également fondés sur des principes de codicologie qui, à notre avis, peuvent s'appliquer beaucoup plus largement au-delà de ce projet particulier.
In questo articolo presentiamo una discussione metodologica relativa allo studio del manoscritto Exon Domesday Book, Exeter, Cathedral Library, ms 3500. L'Exon Domesday contiene documenti relativi al sud-ovest dell'Inghilterra compilati nel corso dell'inchiesta relativa alla compilazione del Domesday Book e poi rielaborati nel Great Domesday Book come lo conosciamo oggi. L'Exon Domesday fornisce quindi una visione unica del funzionamento dei primi anni di dominio anglo-normanno, fornendoci le prove cruciali di ciò che hanno fatto, ma anche di come lo hanno fatto e probabilmente del perché. Tuttavia, il manoscritto è estremamente complesso, trattandosi del lavoro di un gruppo di copisti che lavoravano insieme con tempi di realizzazione molto stretti. La struttura del manoscritto è molto irregolare, con fascicoli che vanno dal bifolio o anche composti di una carta isolata, fino a fascicoli di venti fogli. Per comprendere il manoscritto e la sua fabbricazione, sono stati sviluppati strumenti e approcci digitali che aiutano a visualizzarne e analizzarne la struttura. Anche se tali strumenti sono stati concepiti per rispondere alle questioni di ricerca specifiche del progetto, questi si basano anche su principi di codicologia che riteniamo applicabili ampiamente.
Fichier principal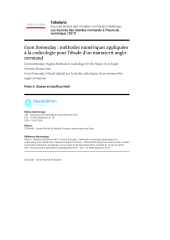 tabularia-4118.pdf (1.99 Mo)
Télécharger le fichier
Origin : Publisher files allowed on an open archive