Baptême et communion des jeunes enfants : la Lettre de Jean d'Antioche à Théodore d'Éphèse (998/999)
First edition and French translation of the Letter of John of Antioch to Theodore of Ephesus on the Baptism and Communion of Young Children, preserved in Paris. gr. 1304 (ca. 1280). This Letter belongs to the genre of canonical responsa. It was composed in Constantinople in 998/ 999 by John III Polites and was addressed to Theodore II of Ephesus. It concerns the question of whether young children can have the sacraments, and it reveals a conflict which arose at the end of the tenth century within the metropolis of Ephesus. Preserved in Constantinople until the beginning of the thirteenth century, the Letter re-appears in the region of Otranto in 1235/ 1236 through the joint efforts of Nicholas-Nektarios of Casole and George Bardanes.
Première édition et traduction française de la Lettre de Jean d'Antioche à Théodore d'Éphèse sur le baptême et la communion des jeunes enfants, conservée dans le Parisinus gr. 1304 (vers 1280). Cette Lettre appartient au genre des responsa canoniques. Elle a été composée à Constantinople, en 998/ 999, par Jean III Politès et elle est adressée à Théodore II d'Éphèse. Elle porte sur la question de savoir si les jeunes enfants peuvent accéder aux sacrements et elle révèle un conflit qui avait surgi à la fin du 10e siècle au sein de la métropole d'Éphèse. Conservée à Constantinople jusqu'au début du 13e siècle, la Lettre est réapparue dans la région d'Otrante en1235/ 1236, grâce à l'action conjointe de Nicolas-Nectaire de Casole et Georges Bardanès.
Fichier principal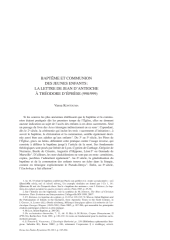 KONTOUMA - Baptême et communion des jeunes enfants.pdf (3.12 Mo)
Télécharger le fichier
Origin : Publisher files allowed on an open archive